Undoubtedly, there is a lot of uncertainty happening around us. This instability can make us feel like we should hold tight and be responsive to what happens. But times of crisis & economic insecurity can create opportunities for us to speed up changes that we needed or wanted to occur anyway. 
Here're the top 4 ways for surviving during economic uncertainty. 
Stop thinking in absolute terms:
You run into trouble when you think that your only options are either-or. Very often, we're drawn to extremes in the events of uncertainty. We tend to think that everything is going to be alright, or that everything is going to be a catastrophe. 
The truth is perhaps somewhere in between. 
Steer clear of thinking in absolutes. Hardly are events all good or all bad. Search for opportunities during difficult times, and curb your propensity toward euphoria with a dose of reality. You will feel better regarding the circumstance, and make more calculated decisions if you don't think that something is the end of the world. 
Assess your cash flow:
Cash flow is a common challenge, especially for small businesses in economic uncertainty.
Consolidate as many liquid resources as feasible. Then, project your cash flow and decide where you will need to take action. When your business is steady & foreseeable, a monthly projection is usually adequate. But in a time of uncertainty, a weekly projection is essential. 
Build your emergency fund:
In an uncertain economic time, having the added security of an emergency fund is supportive and in some cases critical. Just knowing that you're taking steps to be more financially robust can help keep fear at bay.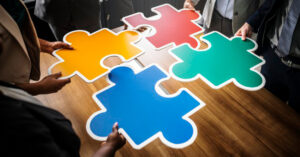 Have a plan in place:
Most of us feel better when we've a plan in place. A clear insight of what you will do can really calm down your nerves and help you tackle an uncertain economic condition. 
People don't like to think about what they would do if a loved one died, or what'd happen in case of a job loss. 
However, these are the situations that are worth a consideration in your financial planning. Think about what income sources you could turn to, from unemployment benefits to your emergency fund. Take into account which expenses you could cut first, like the cable or the gym membership. 
When you know what you can do, it surely helps ease your nerves. 
Disclaimer: The information in this commentary is for informational purposes only and not meant to be personalized investment advice. Please contact your investment professional for investment advice and before investing in any product. ACPI does not publish market research and Sunil Chugh is not registered as a research analyst. The content is from sources believed to be accurate and the opinions expressed are those of the author and do not necessarily represent those of ACPI